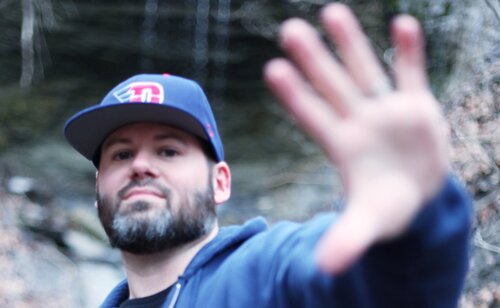 DFRNTFRM, pronounced different form, is a Pittsburgh based Hip-Hop artist. Perhaps most known for his lyrical and production contributions in Fortified PhonetX and the Surface Level Records collective.
A small town die-hard Hip-Hop fan since the early 90's, he wrote his first rhymes at the age of 17 while inspired to do so after watching the movie Slam. From there he started recording into his parent's home PC with a 1/8" mic and boombox playing the beats in the background. This evolved into various rap aliases, chat room battles and freestyles, a MySpace network of collaborators, and a bunch of random songs throughout the 2000's. In 2008, DFRNTFRM (then known as Connect) started a group with his cousin called MythConn. By 2009, he relocated to Pittsburgh and started performing live with MythConn and DJ Blacklisted as their deejay. Around this time he also got into producing beats. In 2010, he and DJ Blacklisted started recording music and performing live along with MC/Producer Moemaw Naedon. The three would go on to form the group Fortified PhonetX as well as co-found the Pittsburgh-based Hip-Hop collective known as Surface Level Records. Music was made and many, many shows were played. As Connect, he released Arrival Tactics in 2011, The Plastic Eaters by Fortified PhonetX in 2012, and Need More Faster with Fort Worth producer FTDub in 2014.
Following this period his family began to grow and life transitions took place ultimately leading to a break from music. The creative spell would end in 2019 when he began to work on new material and performing at shows. March 2020, saw his official return with the release of Pareidolia. The first project released in six years as well as the first under his new name DFRNTFRM. Determined to push through current times, and see the world of live music return, he has stayed committed to music (in his basement). DFRNTFRM's follow-up to Pareidolia, tentatively titled The Same But DFRNT, is expected to be released later in 2021.
Booking
Follow DFRNTFRM